They wuz robbed: Our (affectionate) rebuttal to the 2008 Jeff nominations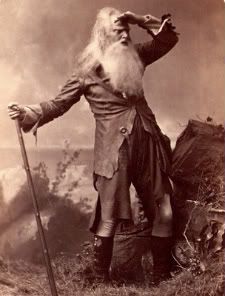 Sigh.
Please forgive my Chekhovian malaise, but when I looked at the nominations for the 40th annual Jeff Awards and realized that TUTA's peerless staging of Chekhov's Uncle Vanya wasn't on the list, I was reminded that exquisite acting and design aren't a universal language after all. Once again, I'm left wondering if the Jeffs need a translator.
Named for 19th-century thespian Joseph Jefferson (pictured here, searching in vain for more interesting nominees), the prize is meant to honor excellence in Chicago Equity (a.k.a. union) theater. This year, new rules have almost doubled the number of categories to separate "large" from "midsize" productions, theoretically leveling the playing field and rewarding more outstanding work.
But one glance at a category like (the now less-glamorous-sounding-than-ever) "Best Production Musical, Midsize," where Bailiwick's scandalously inadequate The Hunchback of Notre Dame somehow scored a property-devaluing mention, and the truth is revealed. More categories only mean more of the same middlebrow muck Jeff tends to favor.
Let's start on the South Side and move north, shall we? Down at Hyde Park's Court Theatre, artistic director Charlie Newell had a banner season in leadership. He reinvented Titus Andronicus with thrilling, bloody metatheatrics. He let fringe director Sean Graney loose on Joe Orton's What the Butler Saw for gloriously perverted results (a move other major theaters followed by hiring Graney for the upcoming season). And he allowed Ron OJ Parson to revive The First Breeze of Summer, a forgotten title from the 1970s canon of the Negro Ensemble Theatre. And so naturally the Court's five nominations went to…Rodgers and Hammerstein's Carousel.
In the Loop, Silk Road Theatre lit the city on fire and tapped a new Chicago audience with its world premiere of Shishir Kurup's hip-hop play Merchant on Venice, in which Anish Jethmalani made a fearless Shylock. Silk Road also delivered the elegant, complicated family drama Durango, starring heartbreaking patriarch Joseph Foronda in the year's strongest unsung performance. But that theater's nominations went to Our Enemies: Lively Scenes of Love and Combat, a play in which nonwhite Americans explained themselves. At length. Repeatedly. (To be fair, tough leading lady Monica Lopez still dazzled in it—dazzled everybody but the Jeff voters.)
The news for forward-thinking plays is no better 16 blocks north. In Old Town, A Red Orchid Theatre's premiere of Brett Neveu's hyperparanoid Weapon of Mass Impact gave Kirsten Fitzgerald, Jennifer Engstrom and Mierka Girten juicy roles as ugly American women preparing to travel abroad. But it apparently gave them no Jeff appeal, as the show got zero nominations.
Meanwhile, a few blocks west at Steppenwolf, James Vincent Meredith's career-defining John Proctor in Steppenwolf's progressively color-blind The Crucible was ignored, while D.J. Howard got nominated for playing, in Driving Miss Daisy, the role about which Spike Lee famously used the term "magical Negro." And Kelly O'Sullivan, terrifying as Crucible's Abigail and empathic as a poor girl screwed over by a rich kid in Good Boys and True got no love, despite this young actor's ability to play seamlessly with more seasoned performers.
Speaking of young actors, I hope you saw rising talents Jared McGuire, Patrick Andrews and Sadieh Rifai as giddily dysfunctional teens in American Theater Company's smash comedy Speech and Debate, the one Equity play this year we were excited to recommend to theater-phobes and theater lovers alike. With no acting nods, it'll be your word of mouth that helps people remember them.
And out in the Northern 'burbs, Writers' Theatre was rewarded for reviving well-mounted but often-produced works like The Lion in Winter and As You Like It but cold-shouldered for the world premiere of Evan Smith's The Savannah Disputation, a witty, sincere look at decaying religious conviction in the Deep South. Encouraging nonprofit theaters to tackle new work is already hard enough; ignoring them when they do so is bad for business.
Speaking of shady business, the New Yorkers who set up Altar Boyz Chicago LLC, certainly produced a show worthy of its four nominations. But it's too bad the company is filing for bankruptcy and that the producers skipped town allegedly owing several thousand dollars to a variety of Altar Boyz artists, administrators and laborers.
In the end, awards exist so we can bitch about them. Our jovial tomato/to-mah-to differences with the Jeffs are ultimately a matter of taste. Which explains Mary Beth Fisher's nomination for the standard situation comedy The Little Dog Laughed rather than her daringly dirty performance in What the Butler Saw (which made that entire risky show work). Or Marilynn Bogetich's nod for the frequently produced Phantom rather than her admirably dowdy Catholic creation in Savannah Disputation. Or director Ed Sobel's direction of the traditional office drama Cadillac rather than his tight, creepy helming of Weapon of Mass Impact. Or designer Ana Kuzmanic's charming, proper 1940s costumes for The Comedy of Errors instead of her pitch-perfect Uptown hippies, burned-out cops and Eurotrash mobsters in Superior Donuts.
Four decades after the rise of native Chicago theater, the Jeff committee admirably continues to attend every theater in town. Now if only the award didn't still have the taste of a 40-year-old virgin.
Share with your network
Comment