Lollapalooza 2008: The Flaming Lips' Christmas on Mars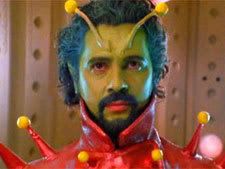 It's a footnote in the Lollapalooza program, and the official maps make no mention of it with an icon, but in a red and yellow circus tent behind Perry's Stage, the Flaming Lips are screening their backyard b-movie Christmas on Mars. In 2001, after finishing their career-redefining Soft Bulletin album, the Oklahoma candy-psychers salvaged a 10,000-gallon tank from a gas station, dropped it on singer Wayne Coyne's property, and dressed it as a space station. Over the course of seven years, family and friends (including some moderately famous Hollywood types) rolled through Oklahoma City and pulled on a jumpsuit for a role in Coyne's nostalgic sci-fi flick.
Like the movie itself, the screening is low-budget and high-concept. Tickets for the movie are sheets of acid tabs (LSD not included, natch). Popcorn comes in boxes decorated in Cyrillic script, Coyne's Martian-character mug, and bold lettering commanding, "EAT YOUR OWN SPACESHIP." Inside the tent, plexiglass hemispheres glow green across the grass floor. Big black blocks of speakers surround the interior.
Before the film starts, Coyne appears on screen to explain the genesis (and plot) of the movie. The frontman loves to talk, and savors colorful storytelling. He explains how his insomniaic mother watched late-night movies on television. She once told her sons of a film in which depressed, doomed astronauts are saved by the appearance of a mystical entity. For years, Wayne sought out this film in video stores and movie guides. Late in life, it dawned on him that his mother might have fallen asleep during one ordinary space tale and let her subconscious fill in the blanks. So he decided to make the movie himself.
Coyne describes the final result as a cross between Kubrick's 2001 and The Wizard of Oz. A more apt equation would be: Guy Maddin + Ed Wood + John Carpenter's Dark Star. Scruffed and scratched 16mm black & white footage is interspersed with moments of hallucinogenic technicolor. Oh, and they're loud as hell. Those stereo speakers explode with thrilling, shrill sonic assaults. Befitting a rock band, sound plays a major role in the film, from the ear-peeling mind-trips to the twinkling space carols. It pays to see this in the band's controlled environment. At home, on a television, this is just going to look like a student film.
Fred Armisen and Adam Greenberg turn up in comedic supporting roles as the Martian colony's medic and psychiatrist, but major roles are handled by the band and their wives, brothers and buddies. The potty-mouthed bigot captain provides comic relief, spitting gems like, "Well, shit on my dick!" The Lips' primary music genius, Steven Drozd, stars as Major Syrtis, a colonist looking to inspire the mentally-damaged space explorers with a dose of fantasy—Christmas. Faced with the vast emptiness of the stars, the humans lose their shit (sometimes literally) and trip out with visions of vagina-faced marching bands and breakfast plates of fetus sausages.
Like the band, the movie is at its best at its weirdest and most colorful. Like the Lips' music, it's hopeful and whimsical, undercut with a heavy dose of life's dark side. The micro-budget production induces chuckles, but it's inspired. An old oven stuffed with wires and electronic toys passes for a central computer. Decaying industrial locations stand in as the space station's cavernous guts. When the My Favorite Martian–inspired Coyne arrives in a sparkling orb, cheers erupt amongst the stoned Lips fans. But Drozd's drastic physical changes from scene to scene (over the course of filming, he went from wraith-like junkie to puffy sobriety) serves as a reminder that our deepest explorations need an intervention, both mystical and human, to pull through.
Watch the trailer below.
Share with your network
Comment