Lollapalooza 2008 Day 3: Mashing with Mark Ronson, taking in the heavy with Saul Williams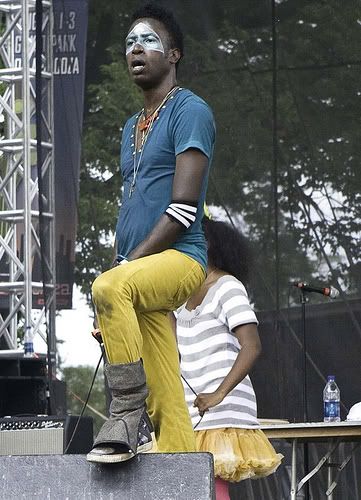 For more Saul Williams photos, and more from Lollapalooza Day 3, see our Flickr stream.
Midway through Saul Williams's set, he broke it down: "To be honest, Lollapalooza has such a kick ass lineup that I feel sorry for you," Williams told the crowd at dusk. "You have to choose between Nine Inch Nails and Kanye. My whole purpose in life is to make music where you don't have to choose." Williams has made a career out of auspicious statements like that, which often work well on paper and not-so-much live, but today was different.
Fronting a quartet of guitar, DJ, keys and "hype girl," Williams played a lot of material off last year's download-only album (but now commercially available) The Inevitable Rise and Liberation of NiggyTardust! (produced by NIN's Trent Reznor). And unlike on past albums, within it Williams has found the perfect blend of race commentator, slam poet and confrontational punk rocker.
It was bracing to see tracks like "Black Stacey, " where Williams riffs on the insecurities a black character has about her complexion, done in this setting. Williams was doing genuinely subversive music. Try "What do you teach your children about me?" or "The n***a is you!" from the track "Tr(n)igger." Yet it just wasn't clear how much Williams's postmodern slam poetry and meditations on race were being digested. High on theater, it occasionally seemed the message was almost incidental to his band's set. To wit: The multi-colored feathers that were passed out before Williams went on—and that he wears as a costume accessory—were being happily added to many American Apparel outfits around me while the teens yapped away, completely oblivious to Williams's music, and, seemingly, his message.
Nonetheless, much did go right. Probably my favorite band member was the "hype man," Saturn, a young girl in a tutu who simply danced and sang along—in the same register and on the same notes—with nearly everything Saul did. In other words, there was no "Yea boyee," or the like from Saturn, merely the odd dissonance of hearing her and Williams miss notes together. But it was her that transformed the set from merely odd to transcendent.
In the end, Williams didn't just save his weighty material for the songs. How's this for stage banter? "We on this stage know that race is a social construct and we can see beyond [race]. So can you." Or this: "Do you guys understand that the power is in our hearts and hands? We can change everything, from health care to education to…music!" The truth is, William's subversive music takes real courage (just like Rage) and I applaud performers who actually give enough of a f*** to say something.
Mark Ronson's set was equally high-concept, but fun and happy where Williams was dramatic and high-minded. And Ronson turned in a gem, a.k.a. a hip-hop, indie rock and soul revue.
Kicking off the set with his all-female string quartet playing "Eleanor Rigby," things quickly detoured into a giddy celebration of under-appreciated classics. A Brooklyn singer named Tiggers did Britney Spears's "Toxic," our own Rhymefest came out to do a live version of the Kanye-produced "Brand New," (Kanye cameo, please? No.), the Australian singer Daniel Merriweather did an instrumental version of Coldplay's "God Put A Smile Upon Your Face," and many more. Also on hand were Phantom Planet's Alex Greenwald, the Liverpool diva Candie Payne (in the Winehouse mold), the Philly hip-hop duo Plastic Little and the singers Kenna and Wale. While some of the hip-hop covers were verbatim (except for the fact that live instruments replaced the samples), most everything was re-arranged into immaculate Northern Soul r&b. Each song involved darting horns, Ronson's chik-a-chik-a guitar, and delirious grooves from the taut rhythm section. In fact, if I had one complaint about the set it's that it was too tightly scripted. It would have been nice to see more spontaneity out of the blatantly capable musicians.
While the musicians weren't letting loose, per se, Ronson packed enough surprises to keep the audience on their toes. Not only did Alex Greenwald, of Phantom Planet, come out to sing Radiohead's "Just,"(Thom Yorke cameo, please?? No.), the entire Phantom Planet band was brought onstage to do their eternal summer classic "California." A bit strange that a song about Cali stirred up so much emotion from the crowd at a Chi-town music festival but I digress. And Ronson did get in one priceless bit of banter: "I'm not pandering here. But I finally got my American passport and citizenship so I can vote for Barack Obama."
The set finally ended with a somber version of Morrissey's "Stop Me If You Think You've Heard This One Before" morphing into a hi-octane version of The Supremes's "You Keep Me Hanging On." Memo to Girl Talk: That is what you call a mash-up.
Photo: Martha Williams
Share with your network
Comment