Lollapalooza 2008 Day 3: Good morning Kid Sister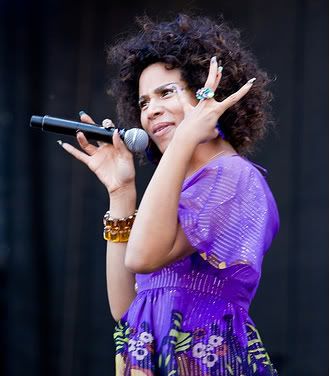 See more photos of Kid Sister in our Lollapalooza Day 3 Flickr photo set.
I hauled ass to get over to the AT&T Stage for Kid Sister's 12:15pm set, but apparently there was no need to rush. DJ Autobot of Flosstradamus spun mash-ups for at least 10 minutes before she actually hit. I'd been curious as to how Melisa Young would fill up an hour of time, considering she doesn't even have an album out (her debut LP, Dream Date, is currently due out Oct 21). Thankfully, and not surprisingly, Flosstradamus was here to help. Her hype man and younger brother Josh (better known as J2K of Floss) got the crowd to do the usual "raise your hands," yadda yadda. Before too long, a stream of fly girls trickled out, followed by the Kid herself—clad in violet with a fresh perm (is there a "Pro Perm" in our future?). "Who woulda thunk it—mainstage!" she exclaims. I'll say. Perhaps there was a little nepotism involved? As is widely known, Kid Sis dates A-Trak—best known as Kanye's DJ. Anyway, just a thought.
Make no mistake: Floss is running the show here. Sometimes it seems like the Youngs are pulling one over on everyone. It's baffling how much hype Kid Sister's conjured for someone with no more than one single—"Pro Nails"—to her name.
Kid Sis spat out double-time verses that lasted no longer than 1-2 minutes—perfect for the ADD set. But if she's pro anything, it's prostage banter. She's almost too relaxed on stage—it often felt like she was hamming it up in front of a family reunion: "Let's give it up for free shit. I don't care how successful I become, I'm still a cheap ass." Right on.
The show relied on plenty of gimmickry. Following the fly girls, a troupe of models straight out of Goldfinger began pacing the stage. J2K joked how they enlisted the "golden girls" from the Magnificent Mile, and big sis, er, Kid Sis, chimes in, "We found these bitches at Old Navy." There's no question that her spontaneity and onstage banter is what has endeared her to the media. I could easily see her as a host on MTV or some celeb show like Extra.
Share with your network
Comment