Lollapalooza 2008 Day 2: Storm the palace
As Twittered reports of injuries during Rage Against the Machine's set poured in, an incident occurring outside the event resulted in a brief stampede of potential Lolla attendees before police on horseback restored order.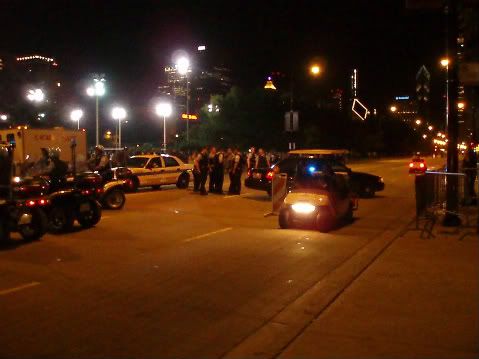 As was the case last night during Radiohead, a few hundred people sat on the curb and park grounds across the street from Lollapalooza along Columbus Drive, which is closed each evening an hour or so prior to the end of the event. At some point, a security gate was opened, which had been used all weekend as an access area to the media tents. Whether they assumed that Perry Farrell and Co. were experiencing a moment of generosity or merely saw an opportunity, at least 100 people stormed in through the security gate, overwhelming the event staff.
Chicago Police Department ATVs and officers on horseback blocked off the access point, and directed people back across the street, but not before a police helicopter briefly showed up with a follow spot. Those who had managed to sneak in, remained, and the gate was closed again. Despite the breach, the aftermath was peaceful with no confrontations between police and thwarted Rage-watchers.
Photos: Scott Smith
Share with your network
Comment