Lollapalooza 2008 Day 2: Afternoon rock block with Dr. Dog, Gutter Twins and MGMT
Philly folk heroes Dr. Dog hit the MySpace Stage at about 1:30pm, performing to a sea of brave, bronzed souls. I'd been hearing Lolla-goers talk them up while making my way over to Grant Park. Long gone are the scrappy, laid-back fellas who dropped their breakthrough album, Easy Beat, back in '04. The Dog, strikingly clean shaven (for the most part), are far harder-rocking, throwing in nods to soul and reggae as well. The five-piece still belts out plenty of multi-part harmonies. But if their earlier work emulated Neil Young, their newer material ups the ante to match Crazy Horse, as evidenced by their latest, Fate. Bonus: Plenty of duel-leads, hilariously reminiscent of Joe Walsh and Don Felder of the Eagles on "Hotel California."
Following their set I strolled over to the AT&T stage, where a prerecorded chamber instrumental introduced the Gutter Twins, the demon child of grunge forefathers Greg Dulli of the Afghan Whigs, and Mark Lanegan of the Screaming Trees. Seemingly the more social of the two, Dulli mistakenly introducing the band with a "good evening," immediately catching himself: "It's very strange to be playing in the daytime. We're gonna pretend like it's nighttime." Whatever works, man. Dulli, who also leads the Twillight Singers, is still a consummate performer, beyond all the facial bloating. Lanegan hasn't got much range as a singer, but his croon is deep and chilling. Still, he often felt more like Dulli's support, rather than an equal. Clad in black and backed by a squad of what seemed like L.A. session musicians, they made their way through their sinister grooves of their Sub Pop debut, Saturnalia. I don't know that I'd wanna run into these guys in a dark alley, but their brooding beats would be an appropriate soundtrack if I did.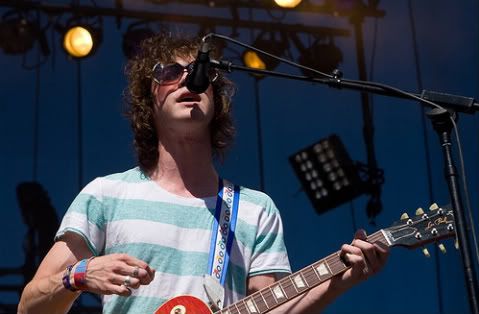 My afternoon rock block concluded with MGMT back over by the MySpace Stage. By this point, it was ridiculously packed, and the skunk stench was noticeably stronger. The duo of Andrew VanWyngarden and Ben Goldwasser were accompanied by three backing musicans on lead guitar, bass and drums. Van Wyngarden greeted the crowd with an optimistic tone: "Summertime doesn't last forever. You've gotta make the most of it." Then proceeded to introduce themselves, er, kinda: "We are Radiohead, thank you very much." The jokers launched into their set of mildly retro rock, playing tracks off last year's Columbia debut, Oracular Spectacular—notably produced by David Fridmann (of Mercury Rev, better known as the Flaming Lips' producer). People often describe the duo as weirdo electro, but that doesn't really capture them. MGMT are pretty straightforward, emitting a relaxed vibe, like listening to classic-rock under water. They're more of a psyched-out spin on yacht rock, though one exception was their latest single, "Electric Feel." The disco burner sounds eerily similar to the Stones' "Emotional Rescue." "Wanna see some illegal crowd surfing?" Van Wyngarden hammed. Good thing he's polished his stage banter, seeing as they'll be facing similarly overzealous crowds when they open for Beck this fall.
Photo: Seth Mooney. See more Lollapalooza Day 2 pictures in our Flickr stream.
Share with your network
Comment