Lollapalooza 2008 Day 1: Black Lips + Yeasayer + Gogol Bordello + Grizzly Bear
Around noon I crossed Columbus Drive and was shepherded into Grant Park along with all the youngsters determined to get their moneys worth out of this three-day rock and roll marathon, the first day of which was sold out thanks to you-know-who. I hustled over to the Bud Light Stage to catch scrappy "flower punks" Black Lips, who hit promptly at 12:15pm. Thankfully, it was early enough in the day to stake out a sweet spot up front, and I zig-zagged around half-naked teenagers and wafting weed to catch these garage goofballs. Imagine a band of Muppets with four Animals, and you'll have a pretty accurate sense of just what was going on. Their guitars were severely out of tune by about halfway through the set, but both frontmen, guitarists Cole Alexander and Ian Saint Pé, didn't seem to mind. Playing jangly doo-wop and psyched-out space jams, the Atlanta foursome is kinda like a bunch of Brill Building brats, maybe a few pubes shy of adulthood.
My next stop was on the opposite side of Grant Park over at the AT&T stage. As I traversed the park I was assaulted by the heinous emo vibes of Manchester Orchestra, as well as Rogue Wave's benevolent, dreadfully dull, indie pop. Thankfully, Yeasayer promptly dove into their set, tinkering with various gadgets and doodads. The NYC quartet was one of the acts I'd been most looking forward to seeing all weekend. I'd last caught them in Austin this past March during South by Southwest. I found today's performance far better—they sounded refreshed and tight as hell. In particular, bassist Ira Wolf Tuton is absolutely incredible. I've never held much respect for electric fretless basses (no disrespect, Jaco RIP), but Tuton nailed it and held the entire band together while singer Chris Keating led the band through their genre-mashing indie rock—fusing Middle Eastern and Southeast Asian influences with new wave-indebted synthesizers and triggers. Perhaps most impressive was the fact that Keating wore a jacket for at least half the set amid the scorching heat.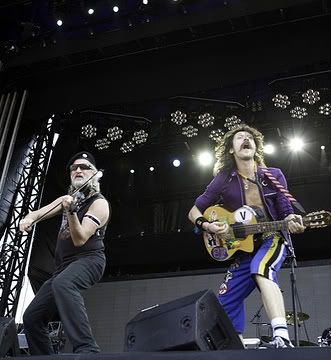 Gogol Bordello followed on the AT&T stage, bringing its "gypsy punk" sensibility to Grant Park. Replete with neon green-outfitted cheerleaders, they stormed through their global fusion of everything from deep dub grooves to accordion-fueled Balkan blitzes. Bandleader Eugene Hütz is apparently down on American weddings, but they sure sound an awful lot like a wedding band. Maybe a lively Bar Mitzvah would be more appropriate. I bet they'd churn out a pretty solid Hora.
TOC Comedy guru Steve Heisler and I swung by the Citi Stage for a set by Grizzly Bear, yet another buzz band from Brooklyn. They breezed through an assortment of songs off its last album, 2006's Yellow House, as well as a few numbers off bandleader Ed Droste's debut under the GB name, Horn of Plenty. Their tasteful harmonies and atmospheric arrangements were refreshingly sedate and understated, like an afternoon tea party before Radiohead brought the brood.
Photos: Erica Gannett. More Lollapalooza Day 1 pictures on Flickr.
Share with your network
Comment