Lollapalooza 2008 Day 1: Gogol Bordello, plus Tweedy and Rogue Wave remove their swear words
Where were the kiddies? Here we are, standing in the hot sun at the kid's stage, Kidzapalooza, and about five kiddies can be spotted—in a sea of at least a thousand. So why are hipsters and d-bags taking up all the space? It's pretty simple: Today's intimate set may be the closest many get to Wilco demigod Jeff Tweedy.
Adjusting to his surroundings, Tweedy played the role of cool babysitter, doling out kid-friendly advice before delivering knowing, adult winks on the side. "I apologize for setting up down here," Tweedy explained of his decision to set up on the ground below the stage, making him much more difficult to see for anyone more than ten feet away. "I wanted to get closer to the kids," he says. "But in a respectful way." Do any kids want to hear Wilco songs? A request comes in for "On and On." Tweedy: "That's too serious of a song for you to want to hear." Later, he warns his listeners about the "adult themes" in Wilco's "Impossible Germany." Chuckles ensue. "Heavy Metal Drummer" and an Appalachian folk treatment of "I'm The Man Who Loves You" (dedicated to wife Sue) get their predicted crowd-pleasing treatment, as does "What Light."
While the more predictable Wilco retreads satiated most, a reunion with former Uncle Tupelo member Bill Belzer on Tupelo's vintage "New Madrid" provided\ my personal highlight. Belzer also plays in the Terrible Twos, the atrocious kiddie band version of The New Amsterdams, and with Belzer and the Twos preceding Tweedy, I suppose a reunion was, well, invevitable.
Rogue Wave, the Oakland band of Zune licensing fame, followed Tweedy and played to the hot surroundings, giving a cool mannered set. Two six-string guitars, a 12 string and a percussionist gave Zach Rogue's innocent, wry perspective a lush treatment on songs like "Eyes" and "Lake Michigan." Peppering their set with little kid-beware nuggets like, "We don't want you to grow up to be small-minded people," in an intro to "Postage Stamp World," gave me a little taste of their worldview. Rogue Wave may have looked a little depleted—not only had they just played an electric set over on another stage, they were scheduled to play Schubas later tonight—but the music, admirably, didn't flag.
Here's what you need to know: Gogol Bordello's violinist, Sergey Ryabtsev (age: somewhere around 60) wears a sleeveless Slayer t-shirt, a black beret and one dangling earring. Does that at least begin to explain why Gogol provided my Day 1 highlight?
Defying age, culture, genre, and dress code, Bordello stormed onto the stage for an hour and simply never let up (mid-show refueling with SoCo may have helped).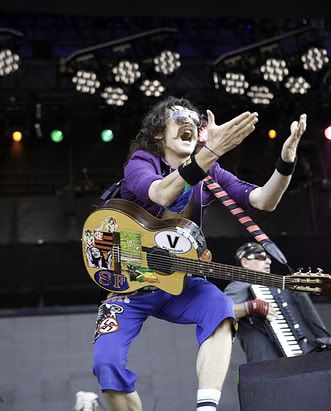 Front man Eugene Hutz is nothing less than a Eastern European Iggy Pop: Chiseled bod, manic personality, and an endearing, near-inability to play his instrument, the guitar. He also sports a comically large 'stache that practically drips into his mouth every time he begins to sing. Hutz's provocative declarations—on the vapidity of American weddings or that "There were never any good old days"—give Bordello its intellectual heft. Hutz wears shorts with the Brazilian flag, a wild, multi-layered belt and enough jewelry to make Devendra Banhart look over his shoulder. Behind Hutz coursed a taut lineup: Two lithe dancers slash backing vocalists, dressed in white mini-skirts and lime green tops; Ethiopian bassist Tommy T Gobena in a Sun Ra hat, drums, guitar, accordion…In retrospect, Gogol gave a performance somewhere between exhausting and exhilarating and the enormous, head-bobbing crowd (where did all these fans come from? Were they just staking out spots for Radiohead?) seemed in Hutz's palm.
Minor quibble: Bordello has a polyglot sound—dub reggae, Balkan gypsy, the occasional hardcore double time—that's devastatingly easy to succumb to. But I couldn't help wishing their music was more confrontational and less slick; more The Ex, less Funkadelic (yes, Funkadelic used to be confrontational but in today's climate, "Maggot Brain" is frat-boy rock). Tommy T's fastidious bass lines, compared with the rest of the band's ragged approach, could stand some loosening up.
Photo: Erica Gannett. More Lollapalooza Day 1 pictures on Flickr.
Share with your network
Comment