Lollapalooza 2008 Day 1: Holy Fuck, Rogue Wave, The Go! Team, The Kills, Bloc Party, Stephen Malkmus
Approaching the main gates of Lollapalooza feels exactly like the long walk from the Dopey parking lot to the main gates of Disneyworld. A marshmallowy Lolla logo stretches high above Buckhingham fountain, luring six-block-long lines. An audio loop of some Fuse VJ welcomes over a loudspeaker and warns against smuggling weaponry and fireworks. A din of multiple stages wafts over the fences like roars of roller coasters.
The ridiculous party metal of Bang Camero rises above from southernmost Hutchinson Field. You know those sad summer package tours of hair bands (well, now bandana-covered bald bands), like Poison / Dokken / Ratt? Imagine all those dudes onstage at once, pounding away like some cock-rock choir. As I make it down the stone steps across Balbo onto the field, Holy Fuck has begun on the AT&T stage. Towers of speakers run deep down the field, so the sound practically reaches the spitting fish in Buckingham.
Nothing against Noah & The Whale, but whatever travel issues kept the British twee-folkers from making the festival were to the benefit of sleep-groggy concertgoers. The Toronto trance-punk Fuckers kickstarted the main stage with throbbing intensity. The couple hundred Yorke-geeks already camped up front are freaking out to what sounds like someone spinning an LP of Kid A at three times the speed. In the climax, keyboardist Graham Walsh seems to be feeding strips of 35mm film through a sampler, building swirling loops over aerobic drumming.
Following up on the back end of the field, Rogue Wave lack the punch and energy, but Zach Rogue's clear voice cuts through a crowd with crystal clarity. Yes, he sounds a heck of a lot like Doug Martsch of Built to Spill and Ben Gibbard of Death Cab, but the band is pleasant…yet nothing more. The best songs, "Bird on a Wire" and "Publish My Love," come from the band's final Sub Pop record, 2005's Descended Like Vultures. However, that record's sleepy ballad "California" loses the crowd. Both "Chicago X 12" and "Lake Michigan" make their necessary appearances, but somehow neither closes the set. When a lesser final number is begun, the crowd begins a premature evacuation.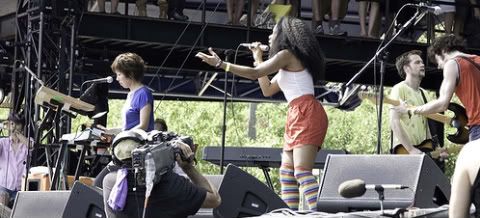 On the other end of the grounds, the Brighton-based Go! Team takes to the stage. Does anyone not like these kids? This is ear candy—two drummers, a noise-rock guitarist, '70s cop show themes, Japanese backup singers, and a high-kicking rapper-cheerleader up front, Ninja. In bright red shorts and rainbow socks, Ninja works up the crowd like a Jamaican toaster running a pep rally. But she's a bit of a conundrum. Frankly, her muddy mumbled rhymes fade into the peppy pinball pop. Yet, take her out, and the group loses half its energy. "Grip Like a Vice" excites like nothing else I hear all day. I want to slide across the broad hood of an old Chevy and get in a chase. A quick beather comes when drummer Chi Fukami Taylor steps up to sing a twee acoustic number, but it's quickly back to the business of sweating. Ninja pants between songs, "I need to replenish my electrolytes!"
The Kills can craft a cool record. Their latest, Midnight Boom, is a ramshackle collage of of plastic turntable scraps and cigarette-burn guitars. It's a very percussive record. Which is why seeing Hotel and VV alone on stage, tapping their pointed boots on drum machine triggers, is hard to love in this hot sunny setting. Visually, it's just two skinng vampires hammering cool Swedish guitars. It would make more sense with an elevated runway of Dior models cutting between them.
Everything about Bloc Party is so affected—from the exaggerated ennui in Kele Okereke's voice to the shrill industrial distortion slapped on the guitars. Wearing an Obama shirt, the British singer whines about "foie gras" (always a winning subject in rock & roll) like he has a lump of the stuff in his mouth. But, hey, a guy to my left is air guitaring like a maniac and some girl works through an extended rhythmic post-punk hula-hoop routine. "We're from a cold wet island," observes Kele, in response to the heat. Perhaps some humidity would sex up this uptight group. "Mercury," the awful, glitchy new tune, goes over like a fart in church. It's a bad sign for career progress when a band that's been around for nearly five years is still closing their set with songs from its debut. Afterwards, the four lock arm-in-arm for a group bow, like they're fucking Def Leppard at Wembley. Guys, you gotta earn those.
Stephen Malkmus has officially turned into a jam rocker. Leaning heavy on Real Emotional Trash, the Jicks (now with tough drummer Janet Weiss of Sleater-Kinney) weave through hash-brownie freak-outs that bounce around the field like so many beach balls. But it's "Pencil Rot" and "Baby C'mon"—two songs from Malkmus's prior one-man solo record, Face The Truth—that sound wonderfully punchy, fleshed out by this tight new backing band. Ah, but a stagehand is climbing a rope ladder back over on Radiohead's stage! A roar ripples through the 'Head-heads. When the LED lights close across the AT&T stage like a curtain, you can hear people begging for the big boys to come on.
Photo: Jeremy Bolen. More Lollapalooza Day 1 pictures on Flickr.
Share with your network
Comment