Things to do this weekend: Sept 3 - 5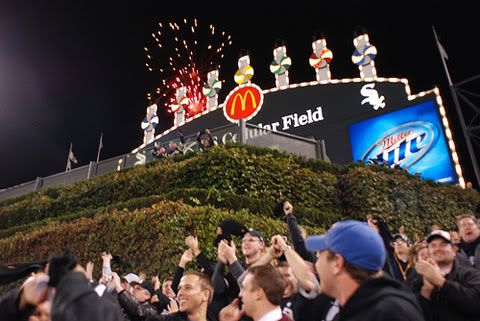 This week's featured photos from the TOC Flickr photo group come to us from nss04 (above) and sfmoe (below).
To paraphrase Dean Wormer, bad fielding, hitting and starting pitching is no way to go through the playoffs, son. My loyalties are pretty clear but watching both teams piss this away is a scenario I didn't even consider. Let's get this back.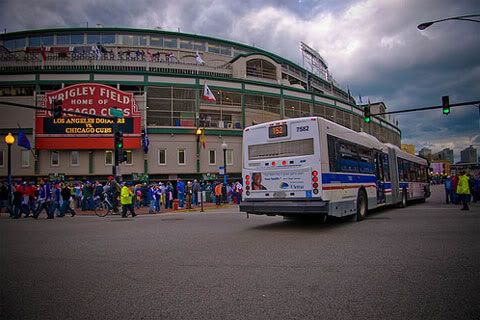 Here are some (other) things to do this weekend:
FRIDAY
ART & DESIGN - Chicago Art Open opening reception
The Chicago Artists' Coalition's 11th annual expo features 300 artists working in just about every medium. Ten percent of their work receives special recognition from this year's guest curators: SAIC profs Candida Alvarez and Kymberly N. Pinder, and gallerist Catherine Edelman. 6–10pm. Merchandise Mart, 222 Merchandise Mart Plaza between Wells and Orleans Sts (caconline.org). El: Brown, Purple (rush hrs) to Merchandise Mart. Bus: 11 Lincoln, 125 Water Tower Exp. $20.
BOOKS - James Kennedy
Chicago author Kennedy reads from his baroque book for young adults, The Order of Odd-Fish. In an August profile, we called the debut novel "a work of mischievous imagination and outrageous invention." 7pm. Borders Books & Music, 830 N Michigan Ave at Pearson St (312-573-0564). El: Red to Chicago. Bus: 66 (24hrs), 143, 144, 145, 146, 147, 151 (24hrs), FREE!
DANCE - Dance>Detour: "We All Matter!"
"Mixed-ability" is the industry adjective for this kind of dance company, which includes some dancers who glide about in wheelchairs. Founded in 1995, Dance>Detour was the first and is the best known of such groups in Chicago. Its mission is to explore the art of concert dance, placing differently abled dancers on the same stage as equals. Tonight's concert includes three company premieres and doubles as a fund-raiser for the troupe. 7pm. Harold Washington Library, Cindy Pritzker Auditorium, 400 S State St (Plymouth Court entrance) at Congress Pkwy (312-225-8824). El: Red, Blue to Jackson; Orange, Brown, Pink, Purple (rush hrs) to Library. $25 donation.
FILM - Iron Man
Remember those hazy crazy lazy days of summer action movies? The ones that started in April? Get a dose of nostalgia for those good old days in Iron Man, with Robert Downey Jr. doing his 57th role celebrated by the critics as a comeback. Seriously, colleagues, he never went away. 6:30, 9, 11:30pm. Doc Films, University of Chicago, 1212 E 59th St between Kimbark and Woodlawn Aves (773-702-8574). Metra: Elec Main to 59th St. Bus: 4 (24hrs), X4, 14, 28, 59, 171. $4.
MUSIC - Brazilian Girls
Brazilian Girls have consistently twisted notions of nationality and identity since the tongue-in-cheek ensemble dropped its self-titled debut a few years back. To recap: There's only one girl and she's not Brazilian—though singer Sabina Sciubba could probably pick up Portuguese without much trouble. She's fluent in English, Spanish and French, in addition to her native languages, Italian and German. The band—which grew out of a jam session at NYC downtown lounge NuBlu—reconvened in the Big Apple for its third album, but it feels no more domestic than previous efforts. There's a noir-nightclub tint to its fetish pop that translates into a typically eclectic, Ibizan cabaret affair. 7pm. House of Blues, 329 N Dearborn St, between Kinzie St and Lower Wacker Dr, Old Town/River North, Chicago (312-923-2000) $23–$24.50.
FILM - The Godfather (restored version)
Look, there's a pretty short list of films we call masterpieces. The Godfather is on it. It's been restored under supervision by Coppola. Seeing it on the big screen is ten times better than ANY video version on ANY screen size (and the includes the new Blu-Ray version on a 60-inch plasma). So go see it. Think of it as an offer you can't refuse. 11:30am. Music Box, 3733 N Southport Ave between Grace St and Waveland Ave (773-871-6604). El: Brown to Southport. Bus: 80 Irving Park, 152 Addison. Regular and midnight $9.25, first daily show $8.75. Also Sunday.
MUSEUMS & CULTURE - Dance Down 2008
Yo dawg, yo dawg: The nation's top freestyle dance crews will rock their bodies and showcase their syncopated movements in footwork and freestyle methods. Hip-hop artist Soulja Boy headlines, while the special-guest lineup includes MTV's America's Best Dance Crew contestants Fysh and Chicks. 7pm. UIC Pavilion, 1150 W Harrison St between Morgan St and Racine Ave (312-413-5700). El: Blue to Racine. Bus: 60 Blue Island/26th (24hrs). $20.
MUSEUMS & CULTURE - Interview Show
Oprah's not the only talk-show act in town. Syndicated columnist Mark Bazer's live monthly interview program features a full lineup of special guests—from comics to CEOs. Tonight, Bazer welcomes Top Chef season four winner Stephanie Izard; Defending the Damned author Kevin Davis; stand-up comic Hannibal Buress; and live theatrical performances by Theater Oobleck players. 6:30–8pm. Hideout, 1354 W Wabansia Ave between Elston Ave and Throop St (773-227-4433). Bus: 72 North, 73 Armitage. $5.
SHOPPING & STYLE - Lara Miller trunk show
This local designer is practically a household name in Chicago, but chances are you haven't had the chance to put a face to the label. Meet the maker of simply elegant, deliciously soft womenswear in person at this daylong trunk show while checking out her fall collection and enjoying wine and cheese. Noon–6pm. Florodora, 1330 S Dearborn St between Jackson Blvd and Van Buren St (312-212-8860). El: Orange, Brown, Purple (rush hrs) to Library.
SPORTS & REC - Pinball Expo
Kids of all ages will flip out for this 24th annual celebration of the U.S. pinball scene. In addition to talks and seminars from those in the biz, there will be autograph sessions, raffles, pinball tournaments, and kids' arts-and-craft workshops lined up. Westin Chicago North Shore, 601 N Milwaukee Ave, Wheeling (800-323-3547, pinballexpo.net). 6pm. $15–$155. Continues at 9am on Saturday.
THEATER - Oobleck Election Play 2008: The Trojan Candidate
Our host, Dick Cheney, leads us on a tour of the fragile psyche of the presidential candidate. Oobleck's fifth quadrennial election play is penned by Jeff Dorchen and Danny Thompson. 8pm. Theater Oobleck at Neo-Futurarium, 5153 N Ashland Ave between Winona St and Foster Ave (773-347-1041). El: Red to Berwyn. Bus: 22 Clark (24hrs), 92 Foster. $12.

SATURDAY
ART & DESIGN - Artists Connect
Artist Rhonda Wheatley explains how two of the museum's Cy Twombly paintings influence her work. Noon–1pm. Art Institute of Chicago, 111 S Michigan Ave at Adams St (312-443-3600, artic.edu/aic). El: Red, Blue to Jackson; Orange, Green, Pink, Brown, Purple (rush hrs) to Adams. Bus: 3, X3, 4 (24hrs), X4, 6, 14, 26, 143, 144, 145, 146, 147, 151 (24hrs), 157. Metra: Elec Main to Millennium Station. FREE!
BOOKS - Rick Kogan
Prolific Chicago Tribune writer Kogan will discuss his new book-in-progress, A Drinking Man's Guide to a Vanished Chicago, which is one of the greatest and saddest book titles we've ever heard. 3pm. Chicago Public Library, Bezazian Branch, 1226 W Ainslie St at Broadway (312-744-0019). El: Red to Lawrence. Bus: 36, 81 (24hrs), 151 (24hrs). FREE!
DANCE - The Dhananjayans
Fans of Indian classical dance longing for authenticity in every detail will be satisfied tonight (except perhaps, with the college-auditorium setting): Natya Dance Theatre presents living legends V.P. and Shanta Dhananjayan from India. The pair perform Bhakti Margam (the Path of Devotion), a Bharatanatyam program featuring the best of their 50 years of artistic excellence in choreography. They'll be accompanied by live orchestra from India. 7pm. Triton College, 2000 5th Ave, River Grove. $25, students and seniors $15.
FILM - Blood Simple
Not grooving on the goofball comic side of the Coen Brothers on display in Burn After Reading? Need a little dose of their darker splendors? Time to revisit Blood Simple, the best of the "neo-noirs" of the 1980s. 11:30am. Music Box, 3733 N Southport Ave between Grace St and Waveland Ave (773-871-6604). El: Brown to Southport. Bus: 80 Irving Park, 152 Addison. Regular and midnight $9.25, first daily show $8.75. Also Sunday.
GAY & LESBIAN - Dykes Pedaling Bikes
Pedal your bike one last time this season with these sporty gals. 9am. Lake Shore Drive Totem Pole, 3600 N Recreation Drive between Addison ST and Irving Park Rd (windycitycyclingclub.com). Bus: 80, 144, 146, 151 (24hrs), 152.
MUSEUMS & CULTURE - Mayor Daley's Kids and Kites Festival
Tell your kid to go fly a kite. The autumn winds are perfect for catching some real altitude, and at this fest, kids can make, decorate and fly kites. Pro kite flyers will also be on hand to offer tips on how to keep their masterpieces out of trees. Face painters, a story bus and other entertainment are part of the festivities. 10am–3pm. Montrose Harbor, 4400 N Lake Shore Dr at Montrose Ave (312-744-3315, chicagokidsandkites.us). El: Red to Wilson. Bus: 78, 136, 144. FREE!
MUSIC - Dead Confederate + Stardeath and White Dwarfs
With a home base in Athens, Georgia, you'd expect a band called Dead Confederate to be just another gang of Southern rock revivalists. Instead, we're greeted with ghostly space-rock and vaguely psychedelic fuzz fests on the group's latest album, Wrecking Ball (TAO). Stardeath and White Dwarfs—featuring the nephew of Flaming Lip Wayne Coyne—opens with their Oklahoma City freak-outs. 10pm. Schubas, 3159 N Southport Ave, at Belmont Ave, Lakeview/Roscoe Village/Wrigleyville, Chicago (773-525-2508) $10.
SHOPPING & STYLE - Fashion Lab
Shopping at stores such as H&M often means you usually look like everyone else. Mix things up by making a purchase at the Chicago Tourism Center, where students from Columbia College, the Art Institute and more will be showcasing—and selling—their one-of-a-kind pieces. We can't think of a better way to stand out from the crowd. 1–4pm. Chicago Tourism Center, 72 E Randolph St at Garland Ct (312-744-6630). El: Red to Lake; Blue to Washington; Orange, Green, Brown, Pink, Purple (rush hrs) to Randolph.
SPORTS & REC - The Chicago Outfit Roller Derby
It seems Chicagoans are eating up the flat-track action like the "Fridge" eats up ribs (did you see him on Top Chef this past season?). If your appetite for roller girls has grown after peeping the Windy City Rollers, check out the Chicago Outfit as it takes to the track against the ladies from "Hammer City," Ontario. 8pm. Windy City Fieldhouse, 2367 W Logan Blvd between Jones St and Western Ave (myspace.com/ChicagoOutfitRollerDerby). Bus: 49 Western (24hrs), 76 Diversey. $12, at the door $15.
SUNDAY

ART & DESIGN - October 5: Explore Fulton Market
Check out FLATFILEgalleries, Linda Warren Gallery, Rowland Contemporary and other neighborhood art spaces during this self-guided tour. Noon–5pm. Start at FLATFILEgalleries, 217 N Carpenter St between Lake and Fulton Sts (312-491-1190, explorefultonmarket.com). Bus: 8 Halsted, 20 Madison. FREE!
DANCE - 10th Annual Windy City Lindy Exchange
Did you know Chicago is the home to the original Lindy Hop Exchange? In the past decade, the Exchange has expanded across the globe. People from all over the world travel from city to city for the opportunity to experience various Lindy Hop styles and cultures. Willowbrook Ballroom offers a 6,000-square-foot dance floor and four eight-foot video screens perfect for learning all of the swing moves. 7:30pm. Willowbrook Ballroom, 8900 S Archer Ave, Willow Springs (708-839-1000, willowbrookballroom.com). Metra: Heritage Corridor to Willow Springs. $20.
GAY & LESBIAN - For the Bible Tells Me So
This compelling doc looks at the way religion impacts homosexuals. 6pm. Holy Covenant Methodist Church, 925 W Diversey Pkwy at Sheffield Ave (773-528-6462). El: Brown, Purple (rush hrs) to Diversey. Bus: 22 Clark (24hrs), 76 Diversey.
SPORTS & REC - Fall Color 5K Run and Walk
What better place to check out some fall color than in a park dedicated to trees? Bring out junior and the rest of the kids for this family-friendly 5K and kids' dash. The course is entirely within the arboretum grounds, and your registration fees benefit the park. Afterward, stick around for a fitness fair that will feature tunes, clothing booths and food. 8am. Morton Arboretum, 4100 Illinois Rte 53, Lisle (630-968-0074, mortonarb.org/fallcolor5k). Metra: Burlington/Santa Fe to Lisle. $25, members $23; day-of registration $30.
SPORTS & REC - Irish Chicago Bike Tour
For the fourth installment of this annual ride, organizers will lead cyclists through the South Side Irish communities in the lovely Beverly, Morgan Park and Mount Greenwood neighborhoods (including an Irish castle). While the area is now home to some craic-filled watering holes (not to mention a helluva St. Pat's Day Parade), it once was home to "Anglo Saxon Protestant uptightness." Proceeds from the ride benefit Old Saint Patrick's community outreach to the House of Mary and Joseph homeless shelter on Chicago's West Side. Riders will receive a framable poster and are invited to raise a pint or two at Cork & Kerry tavern on Western Avenue following the ride. 8:30am. Crescent Park, 2230 W 108th Pl between Bell and Oakley Aves (773-549-3330; john@urbsinhorto.com, urbsinhorto.com). Bus: 112 Vincennes/111th, Pace 349. $25.
Share with your network
Comment