Things to do this weekend: Aug 22 - 24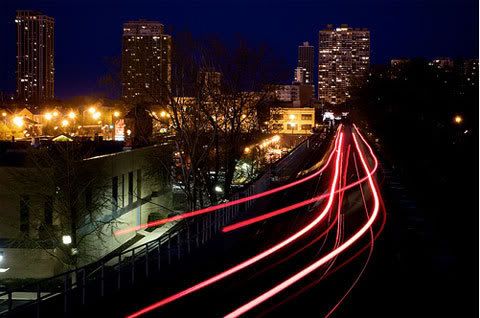 This week's featured shot from the TOC Flickr photo group comes to us from Paul McDonald. It's also one of our favorite reader-submitted photos in our recent Getting There photo contest. You can see all of those shots - including the winners in our "In transit" article and photo gallery.
Here are some things to do this weekend:
FRIDAY
ART & DESIGN - 24th American Craft Exposition
This juried expo, which benefits Evanston Northwestern Healthcare's breast and ovarian cancer research, features 150 craftspeople from around the country selling ceramics, textiles, jewelry and more. 10am–9pm. Henry Crown Sports Pavilion, Northwestern University, 2311 Campus Dr, Evanston (847-570-5096, americancraftexpo.org). El: Purple to Central. $15, kids under ten $5. Though Sunday.
BOOKS - Printers' Ball
The annual Printers' Ball takes to the MCA this year, after the police closed last year's event in Bridgeport. As always, you'll find loads of free copies from Chicago small presses. Yehuda Amichai's radio play, Killing Him, will broadcast in the MCA Theatre from 6–7pm. At 7pm, TOC Books editor Jonathan Messinger's reading series, the Dollar Store, will put on a show, featuring poet Quraysh Ali Lansana, filmmaker Usama Alshaibi and radio artist Julie Shapiro. See "Ballers' delight." 5–10pm. Museum of Contemporary Art, 220 E Chicago Ave at Mies van der Rohe Way (312-280-2660). El: Red to Chicago. Bus: 3, 10, 26, 66 (24hrs), 125, 143, 144, 145, 146, 147, 151 (24hrs). FREE!
CLUBS - Jamie Jones
London's Jamie Jones specializes in dirty and let's face it druggy dance music that straddles the line between house and techno. He's in town once a year if we are lucky. Tonight, he spins with ex-Chicagoan Lee Foss who's sorely been missed. With Spy Bar looking and sounding delicious lately, we'd be sore if we let this one slip by. 10pm. Spy Bar 646 N Franklin St, between Erie and Ontario Sts, Old Town/River North, Chicago (312-587-8779). $20, $15 in advance through wantickets.com.
COMEDY - Grafitti
There are almost infinite comedy showcases going on around town, but this was one of the first successful regular sketch ones. The groups that perform are typically on the cusp of bigger things. This week, Kerpatty, a duo consisting of Pat Dwyer and Erin Pallesen, perform their wicked silly sketch show. 10pm. The Playground Theater, 3209 N Halsted St at Belmont Ave (773-871-3793). El: Red, Brown, Purple (rush hrs) to Belmont. Bus: 8 Halsted, 77 Belmont (24hrs). $10.
DANCE - Chicago Tango Fest Concert and Dance
The musical ensemble Trio Garufa imparts rhythmic sizzle to live performances by internationally recognized dancers who are in town for the International Chicago Tango Fest. A milonga, or open social tango session, follows. 6pm. Chicago Cultural Center, 77 E Randolph St at Michigan Ave (312-744-9350, chicagoculturalcenter.org). El: Red to Lake; Orange, Pink, Green, Brown, Purple (rush hrs) to Randolph. Metra: Elec Main to Millennium Station. FREE!
GAY & LESBIAN - Five Funny Fags and Five Funny Females
Gay comics take aim at our funny queer lives. 8pm. Lakeshore Theater, 3175 N Broadway, between Briar Pl and Belmont Ave (773-472-3492). El: Red, Brown, Purple (rush hrs) to Belmont. Bus: 36 Broadway, 77 Belmont (24hrs). $20.
MUSIC - Joanna Newsom and the Chicago Symphony Orchestra
Songwriter Joanna Newsom has seen her star rise steadily since releasing the haunting suite Ys in 2006. Noted for its lush orchestral arrangements, courtesy of Van Dyke Parks, the album solidified Newsom's standing as the hippest harpist in indie rock, if not all popular music. Following high-profile appearances earlier this year in Brooklyn and Sydney, the folk chanteuse brings her Ys Street Band to Symphony Center for a unique collaboration with the Chicago Symphony Orchestra, where she'll play Ys in its entirety. 7:30pm 220 S Michigan Ave, between Adams St and Jackson Blvd, Loop/West Loop, Chicago (312-294-3000) $20–$60.
SHOPPING & STYLE - Macy's Glamorama
For the past ten years, this fashion event has been a big show, and this year it promises to be as big as the hairstyles and shoulder pads of the 1980s—which happens to be the theme. Eighties icons Cyndi Lauper and MC Hammer (although, technically, "U Can't Touch This" didn't become a hit until 1990) will perform while models walk the catwalk wearing the latest fall looks. As always, a portion of proceeds goes to the Art Institute of Chicago. Purchase tickets through ticketmaster.com or contact the Chicago Theatre box office. And in case you pitched your shoulder-padded dresses and jumpsuits from back in the day, we'll show you what to wear in "Where it's at." 8pm. Chicago Theatre, 175 N State St between Randolph and Lake Sts (312-462-6300, thechicagotheatre.com). El: Red, Brown, Green, Orange, Pink, Purple (rush hrs) to State/Lake. $50–$1,000.
SPORTS & REC - Social Ride: Alternative Late Ride
Organizers of this Chicago Cycling Club ride are hoping to attract the night riders among you who enjoy riding long after sundown, but want to avoid the huge crowds that come with the McDonald's L.A.T.E. ride. Install the flickering lights and join up for this 30-mile ride that finishes with breakfast at Manny's (1141 S Jefferson St, 312-939-2855). 11:59pm. Buckingham Fountain, Grant Park at Columbus Dr and Congress Pkwy (contact Anne Alt at 312-520-1641, chicagocyclingclub.org). Bus: 1, 2, 3, 5, 7, 10, 14, 26, 28, 126, 127, 145, 146, 147.FREE!
THEATER - Abbie Hoffman Died for Our Sins XX
Mary-Arrchie's annual, weekend-long fringe bender kicks off tonight and doesn't quit until late Sunday night. Ad hoc presenters join established Off-Loop companies for the 48-hour-plus BYOB marathon. Check maryarrchie.com for details on the ever-fluctuating schedule; we recommend the weekend pass that lets you come and go as you please. 7pm–Sun midnight. Mary-Arrchie Theatre at Angel Island, 735 W Sheridan Rd between Broadway and Pine Grove Ave (773-871-0442). El: Red to Sheridan. Bus: 36, 80, 151 (24hrs). Day pass $10, weekend pass $25.
SATURDAY
DANCE - Dance for Life
Deeply Rooted Dance Theater, Giordano Jazz Dance Chicago, The Joffrey Ballet, Jump Rhythm Jazz Project, River North Chicago Dance Company and Thodos Dance Chicago unite as part of this year's Dance for Life, the largest performance-based AIDS fundraising event in the Midwest. This event has raised more than $3 million since 1992. Proceeds from the performance will benefit the AIDS Foundation of Chicago, Howard Brown Health Center, Chicago Recovery Alliance and The Night Ministry. 7:30pm. Harris Theater, 205 E Randolph St between Michigan Ave and Columbus Dr (312-922-5812, danceforlifechicago.com). El: Red to Lake; Blue to Washington; Green, Orange, Pink, Purple (rush hrs), Brown to Randolph. Reception 5pm, Performance $75–$500.
FILM - Rancho Notorious
Marlene Dietrich, say hello to the Western genre. Result: Rancho Notorious, the second-craziest Western of the 1950s (Johnny Guitar is crazier, but it's crazier than 98% of everything). Anyhoo, Rancho Notorious is great. See it. 7, 9pm. Doc Films, University of Chicago, 1212 E 59th St between Kimbark and Woodlawn Aves (773-702-8574). Metra: Elec Main to 59th St. Bus: 4 (24hrs), X4, 14, 28, 59, 171. $4.
FILM - Showgirls
Look, we all know Showgirls is the sine qua non of so-bad-it's-good movies. But throw in a stripper-pole contest and campy host Dick O'Day as host, and who could say no? 10:30pm. Music Box, 3733 N Southport Ave between Grace St and Waveland Ave (773-871-6604). El: Brown to Southport. Bus: 80 Irving Park, 152 Addison. Tickets are $12, available at ticketweb.com.
GAY & LESBIAN - Chick Ago Social
Let's hear it for the girls that are going to rock our world at this parking lot party. 3pm. The parking lot across the street from T's Bar and Restaurant, 5025 N Clark St between Argyle St and Winnemac Ave. El: Red to Argyle. Bus: 22 Clark (24hrs). $10, before 6pm $5.
MUSEUMS & CULTURE - Whole Foods FlavorFest
The natural-foods store takes its fresh comestibles to the streets with this fest that includes music, a cooking stage and kids' activities. Live sets by Dave Wakeling & English Beat, the Smithereens, Sarah Potenza, Charlotte Sometimes, Shannon Fortune and others round out the musical offerings. 11am–9pm. Wrightwood Park, 2534 N Greenview Ave at Lill Ave (773-868-3010). Bus: 9 (24hrs), 74, 76. $5.
MUSIC - Aesop Rock with Rob Sonic and DJ Big Wiz + Yak Ballz + Luckyiam
Aesop Rock's an ace MC, but unlike pal El-P, his deft stream-of-consciousness lyrics don't match his incredible soundscapes. Still, the guy's fantastically gifted and open-minded. His latest disc, None Shall Pass (Definitive Jux), features collaborations with not just the likes of El-P but also Mountain Goats master John Darnielle. 9pm. 3420 W Grace St, at Elston Ave, Lakeview/Roscoe Village/Wrigleyville, Chicago, (773-478-4408) $20. 18 and older.
SHOPPING & STYLE - Brochu Walker trunk show
Before you know it, chilly fall weather will require you to wrap yourself in layers of clothing, so the philosophy behind this duo's designs couldn't be more timely. Lisa Brochu and Lauren Walker's collection, which includes silk slips, camis and tees, is all about cocooning. Sounds like the perfect way to slip into something more comfortable (all fall and winter long). 11am–5pm. p.45, 1643 N Damen Ave between North and Wabansia Aves (773-862-4523, p45.com). El: Blue to Damen. Bus: 50, 56, 72.
SPORTS & REC - City Chase
It's another homage (or rip off, depending on your point of view) of CBS's Amazing Race, only you and your partner are just running around Chicago (as opposed to globe trotting), looking for clues and hints as you hunt for points and overcome various physical, mental or adventurous challenges. The duo that first nabs the minimum points and crosses the finish line will move on to compete in the world championships. 10am. Daley Plaza (citychase.com). Bus: 1, 2, 3, 5, 7, 10, 14, 26, 28, 126, 127, 145, 146, 147. $190 per team.
SPORTS & REC - The Chicago Outfit Roller Derby
It seems Chicagoans are eating up the flat-track action like the "Fridge" eats up ribs (did you see him on Top Chef this past season?). If your appetite for roller girls has grown after peeping the Windy City Rollers, check out the Chicago Outfit as it takes to the track against North Star of Minnesota. 8pm. Windy City Fieldhouse, 2367 W Logan Blvd between Jones St and Western Ave (myspace.com/ChicagoOutfitRollerDerby). Bus: 49 Western (24hrs), 76 Diversey. $12, at the door $15.
SUNDAY
DANCE - Book signing with Christine Du Boulay Ellis
Meet Christine Du Boulay Ellis, author of the new memoir A Leap Across the Atlantic. In the book, Du Boulay Ellis recounts the years 1918–1966, when she and her husband, Richard Ellis, were on adventures with the English ballet and encountered colleagues Margot Fonteyn, Rudolph Nureyev, Robert Joffrey, Audrey Hepburn, Ruth Page and others. The couple settled in Chicago in 1954, where they ran an esteemed ballet school until 1994. Russian Pointe Boutique, 333 N Michigan Ave at Wacker Dr (312-332-7200, russianpointe.com). El: Red to Lake. Bus: 3, 4 (24hrs), X4, 26, 143, 145, 146, 147, 148, 151, 157. 1–4pm; $75 includes signed book and English tea service.
SHOPPING & STYLE - Wicker Park sidewalk sale and fest
With the pleasant summer weather we're enjoying, you want to be outside as much as possible, but you're also addicted to shopping—an indoor hobby. Happily, two worlds collide this weekend with this outdoor sale featuring dozens of shops throughout the 'hood, with deals on clothes, accessories, items for the home and more. Getting deals and a tan? We likey. Noon–5pm. The event takes place on Milwaukee Ave, North Ave, Damen Ave and Division St. El: Blue to Damen or Division. Bus: 50, 56, 70, 72.
SPORTS & REC - Accenture Chicago Triathlon
Although the course stretches from 31st Street to Foster Avenue, the majority of spectators for the "world's largest triathlon" will congregate in Grant Park. Grab a spot near Buckingham Fountain to see the finish, although with more than 100,000 spectators, don't expect to get too close. If you were hoping to run, bike and swim through this one, know that registration closed ages ago, and your training should have probably started around the same time. 6am. Meet at Grant Park, Balbo and Columbus Drs (chicagotriathlon.com). El: Red to Harrison. Bus: 1, 2, 3, 4 (24hrs), 6, 10, 14, 26, 28, 127, 146. FREE!
SPORTS & REC - WTTW Kids Fun and Run
You don't want to be the one who reroutes Sesame Street, do you? Then get the whole family out for this 5K fun run or 3K family walk to help support public television's children's programming. All participants will receive a T-shirt and goody bag, while Grover, Elmo, Cookie Monster and other characters will be on-hand giving out the love. That sounds a whole lot better than seeing Big Bird move in with Grover to save a few duckets, now doesn't it? Lincoln Park, Cannon Dr between LaSalle Dr and Fullerton Pkwy (773-509-5333, wttw.com). Bus: 22 (24hrs), 76, 77 (24hrs), 151 (24hrs), 156. Sun 24 at 9am. $30, members $20, kids 13 and under $15, members' kids 13 and under $10.
Share with your network
Comment