Thomas Middleditch waits in The Line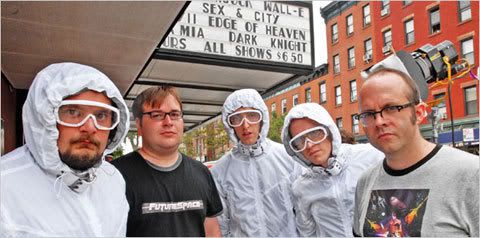 Remember how much I love Thomas Middleditch? Well imagine my surprise when I started watching The Line yesterday and noticed a familiar Chicken McNugget-loving face behind what looks like a shower cap for the body (third from the left above)
The Line is an online video project created by Saturday Night Live cast members Bill Hader and Seth Meyers, and writer Simon Rich. Line is the story of two ultimate fanboys waiting in line to see their favorite movie, and it stars just about every person to grace New York's Upright Citizen's Brigade stage (Jason Sudekis, Paul Scheer, John Lutz, etc.). Hell of a way to spend your summer break.
I caught up with MIddleditch, who plays one of a trio of ultimate fans, via e-mail. He's currently the lead in a now-shooting film called Splinterheads. More on that later; for now, we cross The Line:
"The Line was Seth, Bill and Simon wanting to make something funny that they had control of over the summer. And since both Bobby [Moynihan] and I had auditioned and they liked us they brought us in, and some of the other guys are just UCB guys that they all like and know. That's mainly how it worked. It's pretty much through UCB. It would be great if Chicago could do something like that, and short films were made with the casts of iO and Second City. They are [made], in the short-form Internet, sketch-comedy sense. But fuckin', like, Oprah should back it. Yeah. Oprah and Jerry Springer. He's there, isn't he? And they should give comedians money. The Line had Butterfinger and Sony Pictures, but Chicago needs the positive affirmations of an enthusiastic black woman, and the gong-show antics of a Jewish poor-people exploiter. COME ON, CHICAGO—let's DO this!!!! Cubs! Woo!
But seriously, I was just happy I was asked. It was great fun."
You can watch episode 1 of The Line below.
Share with your network
Comment