Lollapalooza 2008: Attendee injured during altercation with security (Updated 8/6)
Update: In response to this post, a Lollapalooza spokeswoman says security followed "proper safety procedures." More below, along with additional pictures.
Update 2: A Lollapalooza spokeswoman says: "Unless the person in your photo comes forward, by law no hospital, doctor or medic can release the person's name or extent of his injuries." More below.
Update 3: Images of this incident were also taken by Clayton Hauck, including an image that appears to have been taken prior to his injuries, an image of him walking by the ramp, more images from the ramp (1,2,3), additional images outside the gates, some of which appear to take place after the photos below (1,2,3,4), and a shot of the concertgoer receiving medical attention, including oxygen.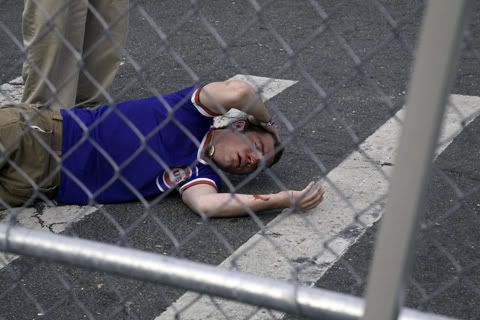 Click the image to view a hi-res version.
Though the Chicago Police Department reports that the number of arrests during Lollapalooza numbered only 14 – the last was for ticket scalping - and organizers of the three-day fest are downplaying two separate crowd control problems during a Saturday set by aggro-protest rockers Rage Against The Machine, an incident involving security and a Lolla attendee during a Sunday performance by Girl Talk appears to be a black mark on an otherwise solid performance by the private security firms hired to staff the event.
According to a freelance photographer on the scene – who has asked to remain anonymous due to the nature of his job – an attendee at Lollapalooza was injured while being escorted off the stage during a performance by Girl Talk.
Based on photos taken during the performance, approximately 30 people were onstage, many of whom had approved access to the backstage area, and some who did not. In photos taken during the incident, it appears that the attendee in question did not have approved access to the backstage area, as those who did sported wristbands denoting "all access," "crew" or "artist." The only wristband worn by the unidentified concertgoer in our photos is one that says he's old enough to purchase alcohol.
As the man was being escorted down the metal ramp at the side of the stage by S3 Inc., the security team hired by Lollapalooza to staff the event, he was "flailing" around, the photographer says, as S3 team members held the concertgoer's arms behind his back and one team member had a hand on the back of his neck.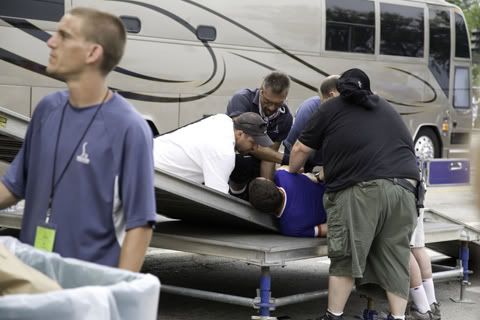 Click the image to view a hi-res version.
At this point, the photographer says that the man fell, striking his head on the ramp, though it is unclear whether he lost his balance or was pushed. But the photographer says that, while the man was lying prone, his head was pushed into the metal ramp by a member of security, causing further injury. The man was then escorted out a back gate, and left lying on the street, holding his head in his hands and bleeding from the nose, while screaming in pain and saying his head hurt.
A few moments later, a member of a separate security team - NPB Companies Inc. – and a member of the Chicago Police Department appear to be attending to the man and radioing for assistance. Our photographer estimates that 10-15 minutes later, medical personnel arrived to attend to the man.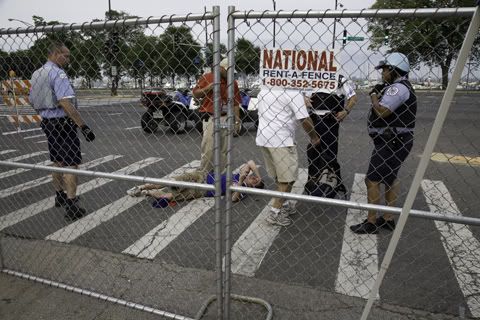 I contacted Lollapalooza spokeswoman Shelby Meade on Sunday night, and asked her for a comment on the incident in question. She told me that she would not have any information on any incidents until Monday morning. After sending her copies of the above pictures, she responded via e-mail that she had contacted the security teams for a response. As of 6pm today, I've yet to receive an explanation or comment on the incident, nor have any of the security members in the above photo been positively identified.
I also contacted the Chicago Police Department to see if any report had been filed by the responding officers. Captain Joseph Vaclavik, the watch commander at the 1st district precinct – which serves Grant Park and much of the downtown area – said no reports had been filed. In addition, I contacted CPD News Affairs and Officer Daniel O'Brien said he had no reports on the incident, though he said that didn't necessarily mean that none had been filed, just that he had no information on it.
As of now, the man in the pictures remains unidentified, and we have no further information on his condition.
Update 8/5/08: I received a response from Lollapalooza spokeswoman Brittany Pierce via e-mail at 4:40pm today. Her entire statement was: "Our security team followed proper safety procedures." I've asked her for more details about what exactly those security procedures are in a case like this, what the procedures are for handling injured persons, whether it's standard to move injured persons to an area outside the event prior to receiving medical attention, and what medical attention this person received on site, if any. In addition, I've asked her whether the individual above was authorized to be backstage at the time, and why he was removed by security in the first place, considering there were many other people onstage at the time. As of 7pm, I've received no further response. The individual above remains unidentified.
In the meantime, I've posted all the pictures we have of this incident in a Flickr photo set, which you can view here.
Update 8/6/08: In a phone interview, Lollapalooza spokeswoman Brittany Pierce said that during the above incident "our safety procedures were administered." She said she was also unable to identify the concertgoer in the photo because releasing the person's name is against the law. When asked about the kind of security procedures that are followed in a case like this she said, "That is something we do not release."

During the conversation, Pearce said the legal confidentiality issue was reiterated by their "head of security." When I asked to be put in touch with that person Pearce replied, "I will put you in touch with them via e-mail." But in subsequent follow-up e-mails, Pearce said,"We do not have any additional information on this. As we spoke about, unless the person in your photo comes forward, by law no hospital, doctor or medic can release the person's name or extent of his injuries."
I also asked if proper safety procedures involved removing injured festival attendees from the area and placing them outside the gates. Pearce said "the proper procedures were followed. If that's what you saw, then that's how it should have been handled, and was handled properly. I honestly don't think there's a story here."
Share with your network
Comment